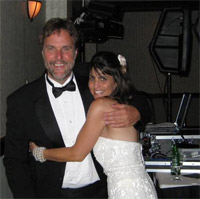 A Terrific Wedding Reception requires a Terrific Wedding DJ!
Videos shot live by DJ Garry during Weddings
Cheap handheld Video Camera used
Shows Clients exactly what they will get with my DJ Services.
I am all about creating Really FUN Classy Weddings!
We are Crowd interactive or less active to fit your taste.
See What Our Clients Say
A Videographer friend of Ours "Platinum Fire Productions" was nice enough to provide me this Video from a Wedding I did.
It's the "ICEBREAKER" …. the first chance to get the Guests involved in Dancing, an important moment to setting the Tone of the Reception and sending the message that We are HERE to Celebrate! I start slow to pack the floor, and then, a new twist on an old favorite, "The Celebration Circle". The Bride and Groom, and Bridal Party know its coming, I have handed out Tambourines and Maracas to the Bridal Party during the slow dance. Notice the Crowd involvement, hear the whole room sing as I lead them. Think it sets a tone of togetherness and Celebration? See for yourself how well it works. Of course, the B&G approve this ahead of time, and song substitutions can work too, but this old song has the perfect message and people sing along. The result? The TONE is set, the Guests are involved, game on for creating a Really FUN Wedding Reception !!
See How we can Entertain Your Guests:
See DJ Garry talking about his DJ Services followed by 3 distinct Bridal Party Introductions: