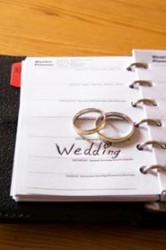 Bride and Groom Instructions:            (Main Planning Page)
The form "KEY" is your Wedding date and your email address.
Revisit as often as you like.
For Updating: Buttons Load and Save.
When done: Use Button Submit.
Enter information completely and accurately
Spell names phonetically (like they sound).
Get introduction pairings correct.
"Most Requested" tabs can help for specialty songs.