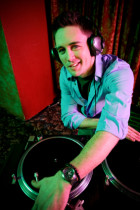 We offer a Professional, fast, and easy way to get a great Party DJ or a DJ in Pittsburgh. We are Better Business and Universal Business Listing Certified, reputable, and we Book a LOT of Pittsburgh DJs for Parties.
Get the "Right DJ" for Your Party:  The age of the Client and the Formality of the Party helps determine the "Right DJ" for the Party. For School Dances and younger Birthday Parties you want a Younger DJ. We also want to match the professionalism and experience of the DJ to the Event… So we group Parties into:
More Formal: Corporate Parties, Parties at: Hotels, Country Clubs, Banquets
Less Formal: Grad Parties, Community Events, Parties at home, Fire Halls, etc
Our Party Lists and Average Pricing: 
Anniversary Party:  More Formal: $450, Less Formal $295
Birthday Party:  More Formal: $350, Less Formal $295
Class Reunion: $350
Community / Street Event: $350
Corporate Event: Under 75 guests: $475, Over 75 guests: $575
Graduation Party: More Formal: $450, Less Formal $295
House or Block Party:$295
Mitzvahs: Basic party: $500, Full Mitzvah experience $800
School Dances: More Formal: $450, Less Formal $295
How We Work:

1. We have a Team of professional DJs for Parties.
2. We get volume discounts with our Pittsburgh DJs since we book them often.  


3. We provide instant Online Price quotes (and terrific prices).
4. You BOOK your DJ Online (deposit only) with our secure system using Credit Card or Paypal.
5. We consult our DJ Team to secure your DJ for you within 24 hours.
6. Your DJ will follow up with you to initiate Event Planning.
7. If you don't Book Online and pay your deposit, DJs will follow up with you.
8. Booking Online with Us locks in your discounted Price. If DJ's follow up, their Prices may vary.
Benefits:
Save time, hassle, and $$$$.
Get a professional DJ for your Pittsburgh Party at a very nice discount.
DJ provides absolute lowest prices because we hand them a booked date.
I know these guys. I will find best available within your price range.
Everyone wins!
Get an Instant Party Price Quote