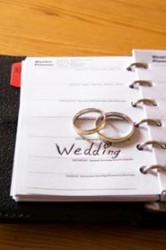 Welcome to our Client Planning tools! These terrific tools make it "Easy" to plan all of the needed details for your Wedding Reception. Brides constantly tell me just how much the tools helped them with their planning.  For Existing clients can begin your Wedding Planning at any time. For Potential clients, Feel free to check out the links below.

Planning Forms:
See the

Bride and Groom Instructions

(at bottom)
Have a question or a message? Click Here
Ceremony details – Here for your convenience. Feel free to use our form whether DJ Garry is providing Ceremony Services or not. As a reminder, we can provide music and wireless mics for vows, see "Enhance Your Reception".
Reception Timeline – Shows the order of your reception events. A sample Itinerary is shown on the time line page
Reception Details – Reception Details, Special songs and Announcements, Introductions.  If you are still trying to decide some of your Wedding Specialty songs check out the "Most Requested" tabs.
Bride and Groom Requests – Build your Must Play, Try to play, and Do Not Play lists.
Enhance Your Reception:   Add any of the following to your Reception
Ceremony (Music and Wireless mics for Vows)
Separate Room Cocktail
Uplighting (Decorate Room Lighting) – 3 options to fit your budget
Video Presentations (Slideshows and Montages)
Bride and Groom Instructions
The "KEY" for each form is your Wedding date and your email address.
You can save, reload, modify, and print your forms.
Enter information completely and accurately so that I may perform flawlessly at your Reception. Spell names phonetically (like they sound). Get introduction pairings correct.
Complete and submit your forms by the end of day Sunday prior to your Wedding.
Please refrain from last minute changes after you have submitted your forms. This is how mistakes and omissions can occur.
Once you submit the forms, we will schedule a Phone Consult, usually Monday or Tuesday evening of "Wedding Week". This phone consult only takes about 20 minutes since the forms have focused you to capture all of the necessary details. We review all details of the forms and ideas for the Reception. Its efficient for both of US, and works really well! Getting the correct and complete detail into the forms allows me to perform "Flawlessly" on your Wedding day !!!
 Sample Wedding Itinerary (just as a suggestion to help you plan):
Cocktail Hour, Introductions of Bride and Groom and bridal party (Select 1 or 2 intro songs), Toasts, Blessing, Dinner, Cake Cut (If large Wedding or cake is desert, can do this Before "Toasts"), 1st Dance (Bride and Groom), Father / Daughter dance, Mother / Son dance, Open Dancing and Ice Breaker, Bouquet and Garter throw, More dancing!