Make your Wedding DJ decision "Easy" with owner and award winning DJ Garry.
You won't find a DJ with more/better reviews at a better price !!  
Services: (Simplified Mobile ready Website for easier navigation)
Premium Wedding DJ Services featuring Owner/Award winning DJ Garry
Wedding DJ services for all budgets (via our DJ associates)
Party DJ services
Owner/award winning DJ Garry: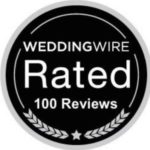 A terrific Wedding Reception requires a terrific Wedding DJ:
Over 105 Excellent Wedding Wire Reviews
You won't find a Wedding DJ with more/better Reviews at a better price !
Best of Wedding Wire 2010 thru 2017, The Knot 2012 thru 2015
Owner and Headlining DJ
Wedding Specialist / superb MC Skills
DJ Garry Price List
Exceptional at creating FUN yet Classy Pittsburgh Wedding Receptions
Videos (actual performances and testimonials)
Featured on TV Show "Four Weddings" as seen on TLC
Terrific Client Planning tools
Lot's of Reception Enhancement Options
$200 Discounts if your Wedding is NOT a Saturday 05/01 thru 10/31 !!
Professional and Sophisticated Services at a terrific Value!
Contact Us for an email summary OR to inquire about DJ Garry availability
Weddings Are a Specialty for DJ Garry
I love doing Weddings! It's a celebration of joy, love, and family, and is like nothing else! I am very good at creating FUN yet Classy Weddings. I know this because my Clients and Guests tell me so each and every week. People constantly tell me it's the Most FUN they've ever had at a Wedding. I promote a spirit of enthusiasm and absolute joy, and lead the guests to having a great time, all the while being an absolutely perfect MC.
DJ Garry Wedding Package includes up to 5 hours continuous music with DJ Garry as the Master of Ceremonies and Director of Fun. Also included: Liability insurance, dance floor effects lighting and laser, Pro Sound system with Wireless mics. Travel up to 1 hour and no charges for setup/tear down. We offer a complete line of services too (see Price list).
"Platinum Fire Productions" was nice enough to provide me this Video from a Wedding I did.
More about DJ Garry Here.
Wedding on a Budget?  Or DJ Garry not available for your date? We network with a variety of pro DJ's that provide Wedding services at various prices levels  Contact Us  for complete details.